CCP Support Series
15-Minute Renewal & Continuing Competence Program (CCP) Support Series are now offered DAILY!!!
Do you need a quick refresher on the annual 4-Step Renewal Process? Would you like to know why you must complete the CCP? Or do you need guidance on how to edit your profile? Or how to add a Learning Activity Record? Or how to write a fulsome reflection? Are you limited in time and want a targeted session that is 15 minutes in length?
If so, please join ACOT staff for one of our daily 15-Minute Renewal & CCP Support Series sessions hosted via Microsoft Teams meetings. No need to pre-register, just click on the link for the session date/time below.
Part 4. What is an acceptable Reflection & what are the expectations for the 6 components of the CCP? (Steps 2 & 3 of Renewal)
TODAY Feb 24, 12-1215pm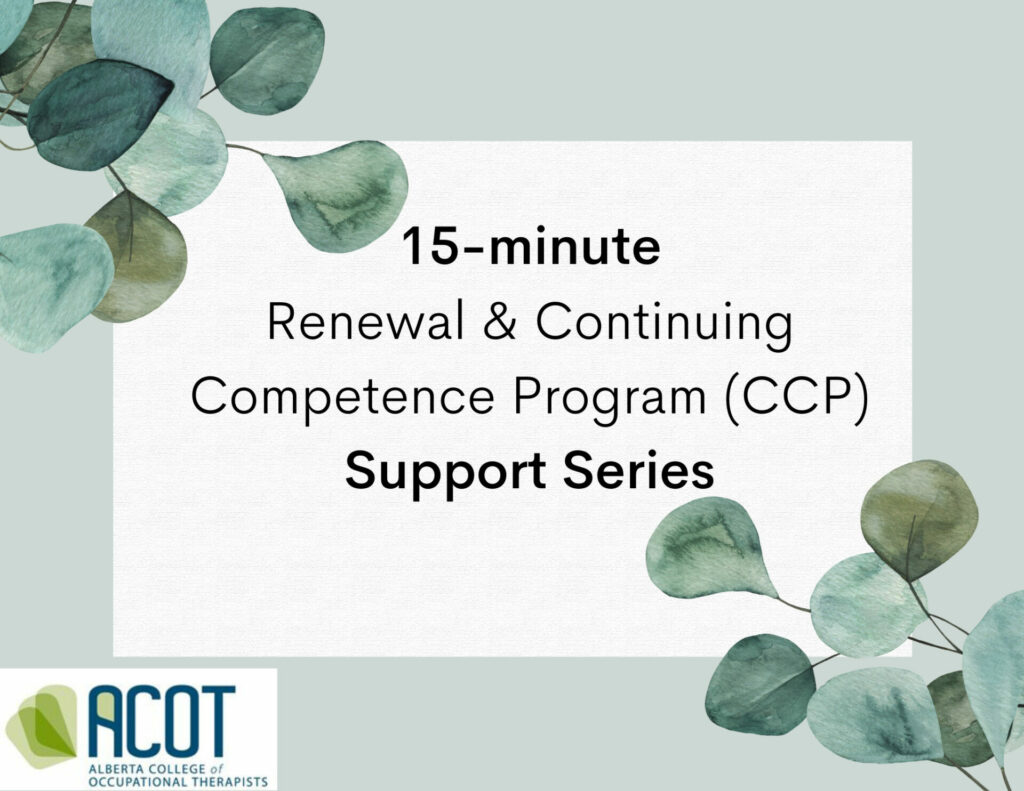 Ask Alanna
This is an opportunity for registrants to join ACOT on MS Teams, to ask their questions LIVE. Alanna Ferguson, Director of Competence and Practice, will be available to coach registrants through queries on the renewal process, continuing competence expectations, 2022 National e-Learning module or any aspect of your practice.
TODAY Feb 24, 1230-1pm
4 Days Left to Renew Your Permit
Thank you to those OTs who have already completed renewing their practice permits, we appreciate the renewals! To renew your permit, access the Registrant Login to the online platform at www.acot.ca.

Be sure to renew before February 28, 2023, to avoid having your practice permit cancelled. If you miss renewal – Your practice permit is cancelled, and you can't work until your re-application is approved.
Note: it can take up to 10 or more business days to re-register after you submit your re-application with new criminal record check and vulnerable sector check. Be sure to start your renewal today.
Issues with Mandatory, 2022 National eLearning Module
The national eLearning module is used by OTs all over Canada. At this time we have been informed that the platform it was developed on is having slowing and stopping issues likely due to the volume of people taking the course.
ACOT recommends giving yourself more than two hours to complete the mandatory training. You must complete the online module prior to renewing your practice permit. Note the system may slow down more when we approach the end of February and extra user volume, so please complete the training and your renewal early.
You can access the eLearning module here: https://ot-elearning.skillbuilder.co/
2022 National eLearning Module Tips
Ensure a completed status: The system provides ACOT with the names of those who have completed the modules, so there is no need to add the module reflection worksheet to your ACOT continuing competence program (CCP) Learning Plan. Although you are welcome to add them into your CCP if you wish for your own tracking purposes. To receive a completed status and the Recognition certificate, you must complete all 3 steps in the pathway, which includes the survey.