Editing & Updating Your Continuing Competence Program (CCP)
We've received several questions about whether it is acceptable to change Learning Plan goals, for example, to reflect changes in practice as a result of the pandemic. Rest assured there is no penalty for revising your CCP goals to capture the learning you had to do to adapt to changes in your practice – in fact, that is encouraged.
Refer to the many CCP resources on ACOT's website for instructions on how to make these changes along with examples of Learning Plan submissions that you can use to get a sense of what type of content to include in your submission.
January Open Forum Date Selection
Council's Open Forums occur twice a year. This is your opportunity to bring forward issues, concerns, questions, or any other matter you wish to share with Council, who welcomes your engagement!

To help us select a date and time for the next Open Forum that works for the greatest number of OTs, please complete this quick one-question survey: https://www.surveymonkey.com/r/8RLB3NG

Thank you for participating!
Renewal Open January 1, 2021 to February 28, 2021
You will be able to renew your practice permit online beginning on January 1, 2021. Access the Registrant Login to the online platform at www.acot.ca.

Be sure to renew before February 28, 2021 to avoid having your practice permit cancelled.

Note: it can take up to 10 business days if renewal approval is required if you have profile updates such as a name change or addition of an employer that is not currently in our system. Be sure to start your renewal well before the end of February.

You may notice our list of employers has changed in our system. We have been working to remove duplicates and tighten up categories. If you do not see your employer in the drop-down pick list, refer to the section on modifying your employment information in the Registration Renewal Guide accessed from the CCP Resources page of the ACOT website.
Happy Holidays & Operations Update
The ACOT office is currently open by appointment only as per public health orders. We are readily available by email and phone and look forward to connecting with you.
Note we will be closed over the holidays from December 25, 2020 through January 3, 2021, and will resume email, phone, and by-appointment office visits on January 4, 2021.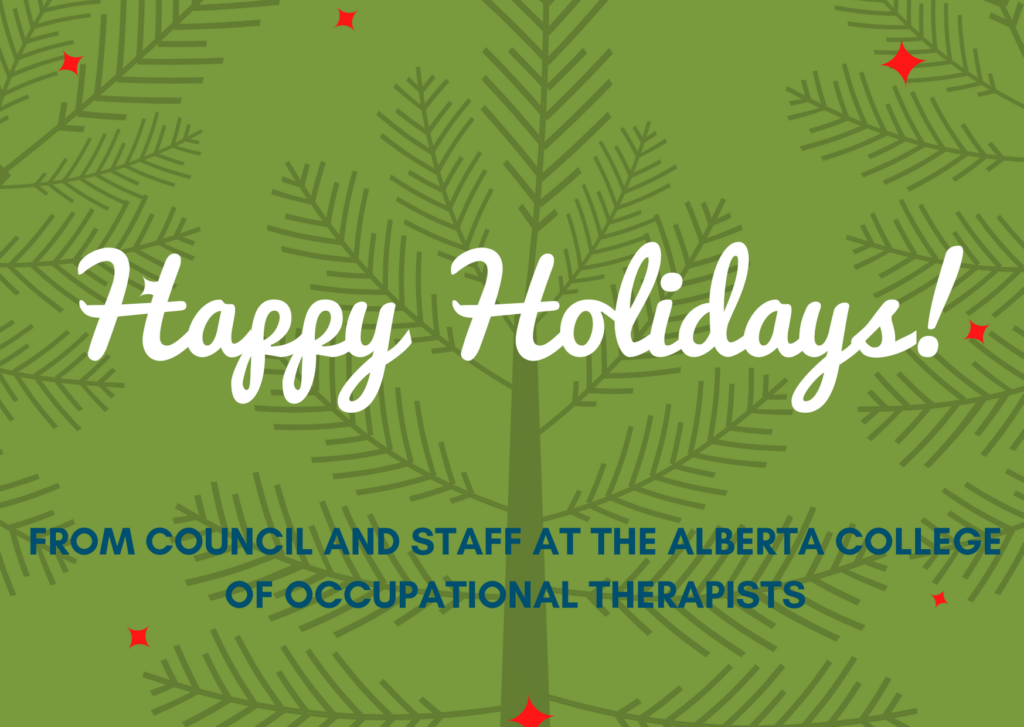 Feel free to contact us if you have any questions about today's update.