OT Month
This week's video features Marianne Baird, Registrar and CEO talking about OT Month! 
Top 10 Questions to Ask Your OT
Here's a great graphic for you to share! #occupationaltherapy #otmonth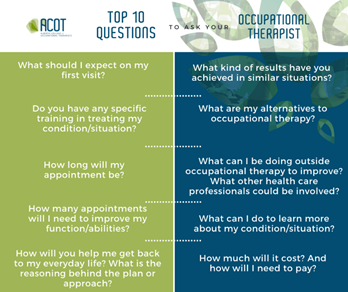 Your Feedback on the CCP is Needed
Only 11 days left to offer your feedback on ACOT's Continuing Competence Program (CCP). Please take ~10 minutes to complete the CCP Review 2021 Survey – the survey will remain open until October 18.
The findings from this survey will guide improvements to ACOT's CCP process and CCP resources developed to support OTs in submitting Continuing Competence Learning Plans which capture their commitment to reflective practice and continuous learning.
Open Forum October 18, 2021
Council's Open Forums occur twice a year, and are your opportunity to bring forward issues, concerns, questions or any other matter you wish to share with Council, who welcomes your engagement!  The next Open Forum will be held on October 18, 2021, from 6:00-7:00 p.m. Hélène Sabourin, CEO from the Canadian Association of Occupational Therapists (CAOT) will also be joining us. There is no need to register – just click on this link to join the meeting in Microsoft Teams. To help us address items that are of interest to you, please complete this quick 2-question survey before the meeting: https://www.surveymonkey.com/r/L3KTPC6
Thank you!
Two-factor Authentication – It's On!
ACOT is requiring all registered OTs to use two-factor authentication when using our online registration and continuing competence program system. This update is implemented to further protect your online personal information.
When you login to your profile the system will automatically send you an email with a confirmation code. Check your email and if not found, check your junk mail for info@acot.ca. You have 30 minutes to enter the confirmation code. If the time expires, you can try again. We encourage you to login before the 2022 renewal.