New ACOT Staff Titles
ACOT is pleased to announce that Alanna Ferguson has joined us permanently as our Director, Competence and Practice. Many of you will know Alanna from her role as Acting Director, Policy and Practice. She had been in this role temporarily while Angela Meneley, Director of Policy and Practice, was seconded to do ACOT's consultation and refresh of our Standards of Practice and Code of Ethics.
Alanna's new title reflects that she is fully immersed in ACOT's Continuing Competence Program (CCP), CCP review and evaluations, practice visits and assisting registrants with their practice queries. Angela's new title, Director, Regulation and Policy captures her ongoing focus on recent government bills and their impacts on the legislative, regulatory, policy and other areas affecting ACOT and OT practice in Alberta. As part of her role, Angela will continue consulting with key partners and registrants to inform how our Standards of Practice and Code of Ethics are finalized, implemented, and interpreted into practice guidance documents.
Please join us in congratulating Angela and Alanna!
Marianne Baird, CEO and Registrar
15-Minute Renewal & Continuing Competence Program (CCP) Support Series
Do you need a quick refresher on the annual 4-Step Renewal Process? Would you like to know why you must complete the CCP? Or do you need guidance on how to edit your profile? Or how to add a Learning Activity Record? Or how to write a fulsome reflection? Are you limited in time and want a targeted session that is 15 minutes in length?
If so, please join ACOT staff for one of our 15-Minute Renewal & CCP Support Series sessions. No need to pre-register, just click on the link for the session date/time below.
Jan 25, 1230-1245pm Part 4. What are the expectations for the 6 components of the CCP? (Steps 2 & 3 of Renewal)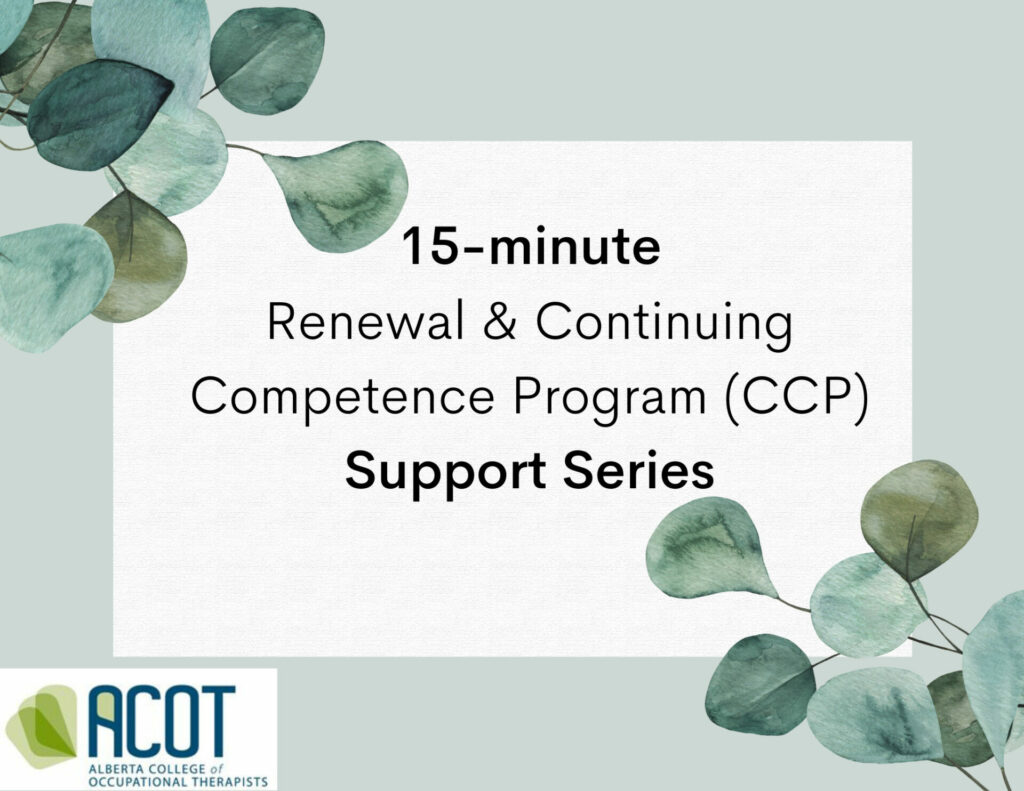 Renewal is OPEN
Renew your practice permit online now! Access the online platform by clicking on the Registrant Login to the online platform at www.acot.ca.

Be sure to renew before February 28, 2023, to avoid having your practice permit cancelled.

Note: it can take up to 10 business days if renewal approval is required. This happens if you have profile updates such as a name change or addition of an employer that is not currently in our system. Be sure to start your renewal well before the end of February.
Not Planning to Renew? Please login before February 28, 2023, to actively cancel your practice permit as of March 1, 2023.