CCP Support Series
15-Minute Renewal & Continuing Competence Program (CCP) Support Series are now offered DAILY!!!
Do you need a quick refresher on the annual 4-Step Renewal Process? Would you like to know why you must complete the CCP? Or do you need guidance on how to edit your profile? Or how to add a Learning Activity Record? Or how to write a fulsome reflection? Are you limited in time and want a targeted session that is 15 minutes in length?
If so, please join ACOT staff for one of our daily 15-Minute Renewal & CCP Support Series sessions hosted via Microsoft Teams meetings. No need to pre-register, just click on the link for the session date/time below.
Part 3. How do I wrap up my 2022-23 CCP & initiate my 2023-24 CCP? (Steps 2 & 3 of Renewal)
Part 4. What is an acceptable Reflection & what are the expectations for the 6 components of the CCP? (Steps 2 & 3 of Renewal)
Part 1. Overview of the 4-Step Renewal Process (Steps 1-4 of Renewal)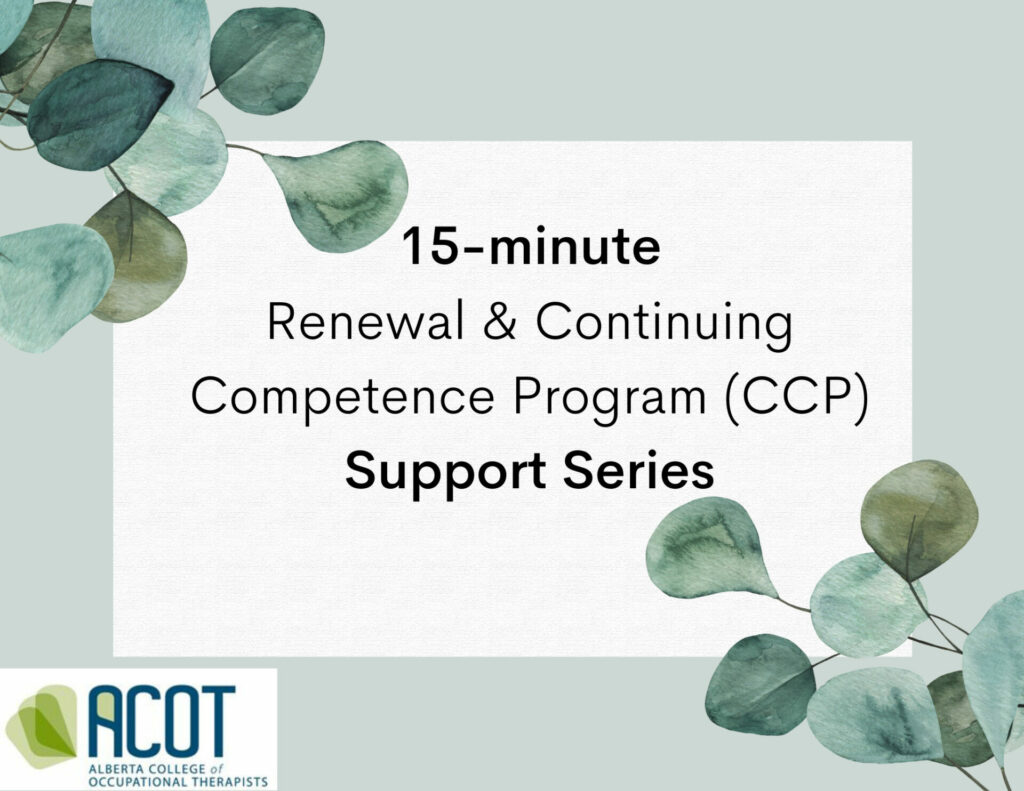 Ask Alanna
This is an opportunity for registrants to join ACOT on MS Teams, to ask their questions LIVE. Alanna Ferguson, Director of Competence and Practice, will be available to coach registrants through queries on the renewal process, continuing competence expectations, 2022 National e-Learning module or any aspect of your practice.
Have Your Say in ACOT's New Standards of Practice (SoP) and Code of Ethics (CoE)
As noted in the Jan 12 eNews, the draft set of fifteen SoP and the CoE are ready for your review and feedback. Check out the Standards of Practice Consultation page for information on timelines for adopting the new SoP and CoE once they are finalized and links to the feedback surveys.
The surveys will remain open until Monday February 13, 2023. You are welcome to complete as many or as few surveys as your time permits and can complete the surveys on your own or as a group (e.g., staff/team meeting, community of practice meet-up, etc.).
We look forward to hearing from you.